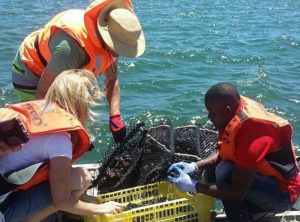 Cultivated in the cold, nutrient-rich waters of the West Coast, our succulent oysters slowly build their magic. When they reach maturity they are freshly harvested from the sheltered bay of Saldanha.
The secret to their freshness is that the transfer time from seawater to table is kept to an absolute minimum, thereby maintaining the cold chain integrity throughout. The result is a firm, robust oyster, full of vitality and vigour.
The superior taste of Saldanha oysters is due to the abundant plankton food supply in the bay, which imparts a subtly sweet, nutty nuance to the familiar "salty-sea" oyster eating experience.